Include as much detail and specifics as possible so we can answer all your questions.
Our rifle builds range from 4K-6K depending on component selections.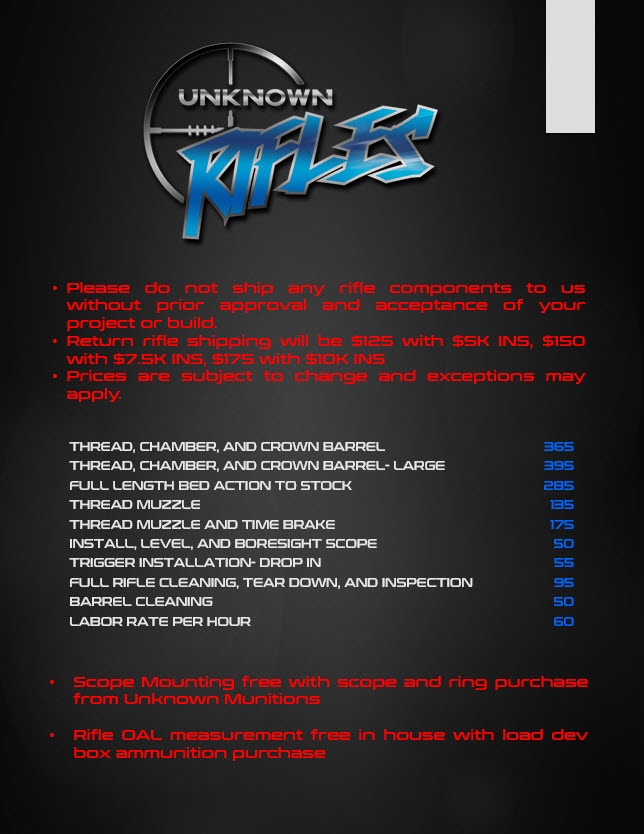 PURPOSE BUILT
Every shooter and hunter's goal is to shoot tiny groups with the bullet they want at the velocity they want. So why do we build a rifle and then try and make ammunition work later? At Unknown Munitions, we build your rifle around the bullet you want to shoot at the velocity you want to shoot it at. Barrel length, twist rate, cartridge, bottom metal, magazine, etc. are all chosen to accomplish your goal of hitting that distant target or dropping that elk with one shot.
THE DETAILS
"The devil is in the details" as they say. It can be overwhelming to navigate all the many options when choosing a cartridge, bullet, and components for your new custom rifle. At Unknown Munitions, we live to hunt and shoot long range. We've done it all, and have the experience needed to point you in the right direction so you can avoid making costly mistakes.
IN HOUSE
We have a Gunsmithing dept., we have an Ammunition dept., we have a Load Development dept., we have a Cerakoting and Laser dept., we have a training dept., we have exclusive action and rail options, we have the best brake on the market, and we have the experience and reputation to do it right the first time.
COMMUNICATION
We know how frustrating it can be to have no idea when your rifle will actually be done, or what the hold up is. Or after emailing, calling, texting, only to have no one answer you or they have no definitive information anyway. Our customer service and responsiveness is legendary, and we know how special your rifle is to you. You can even come by the shop and see firsthand where you're at in the process, give us a chance to blow you away!